"I heart" badges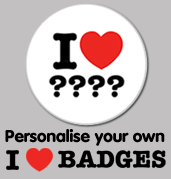 Want to declare your love for something or someone? Do it with an "I heart" badge! Just simply fill out the form below with your details and the word(s) you want on the badge.
Remember, only one design per order. If you want different designs, please get it touch for a price.
Please note, if you require your badges to be shipped somewhere outside of the UK, email [email protected] for a quote.
Your selection
Price
Postage
Special delivery
No
Total
Any problems? Email us at [email protected]