Small 25mm button badges
Our small badges are 25mm in diameter (the same size as a 2p coin) and look like this: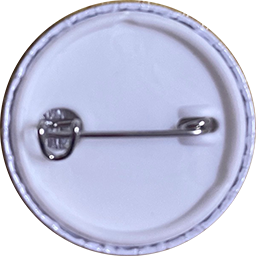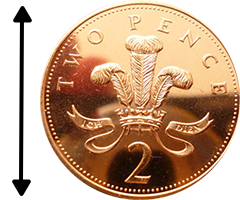 We now use clean, modern, safety-pinned plastic backs on all of our 25mm badges. No rusty cheaper pins like some companies!
Prices
Prices for small (25mm) badges can be found below. If you wish to pay by card simply click "Buy now", follow the online instructions and then email us your image.
All our badges require a signature on delivery, so you can be confident that your package is safe!
Number of Badges
Price (includes VAT)
1st Class Postage
Click to Buy
5
£7.00
£3
10
£9.00
£3
15
£13.00
£3
20
£15.00
£3
25
£17.00
£3
35
£18.00
£3
50
£19.00
£3
75
£29.00
£3
100
£31.00
£4
150
£41.00
£4
200
£48.00
£5
250
£58.00
£5
300
£69.00
£6
400
£90.00
£7
500
£105.00
£8
600
£118.00
£9
700
£135.00
£9
850
£165.00
£10
1000
£192.00
£10
1500
£284.00
£15
2000
£375.00
£15
2500
£473.00
£15
Need more? Just get in touch.
Wee Badgers allows you to have different designs within a single order. If you order under 50 badges then only one design is allowed. However, for 50-99 badges you can have two designs and if you order 100 or more you can have 4. If you need more designs then just get in touch and you'll receive an extremely quick response!
Please note that if you do want multiple designs then the number of badges per each design is split equally. So, for example, if you ordered 200 badges and wanted 4 designs, you'll receive 50 badges of each design. Please note, if you do require different different quantities of each design then you won't benefit from this fantastic deal and have to pay a bit extra. Please contact us if you are wanting different amounts.
Pay by cheque!
Please make cheques payable to 'A. Brown' and send to:
Wee Badgers
PO Box 3821
Glasgow
G46 6JY
We also accept:
Postal Orders payable to 'A. Brown'
Well hidden cash (at your own risk)
Credit Cards using the "Buy Now" buttons above.
PayPal payments should be sent to [email protected]
If your design is black print only, we have a selection of pastel, primary and neon colours that we can print onto. Please enquire if you have something in mind.
All post is sent Royal Mail 1st Class Recorded. If you would like your order to be sent next-day Special Delivery then just add £5 to the cost of your order.