Button badges made by Wee Badgers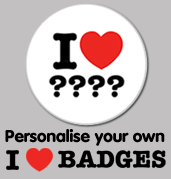 Wee Badgers take your designs and turns them into high-quality pin button badges at a great price in no time at all.
Customers range from rock bands to theatres, schools and charities. Ordering button badges is fast and simple. We look forward to hearing from you!
Quick response and turnaround
We're constantly praised for our great communication and quick replies, so if you have any questions at all, please email [email protected]! We can also reply to enquiries by SMS.
We'll be closed for a wee summer break from 31st May - 8th June :) Please get any urgent orders in before this time to avoid disappointment.
Here are some of the badges we've made over the last week.
All our badges now require a signature on delivery, so you can be confident that your package is safe!
Order your badges now quickly and easily!
It's now even easier to order your badges! Simply use the order form to tell us how many badges you want and to upload your design. If your image is particularly large, please email it to [email protected] instead.
Quote of the week
"What amazing service, great quality and fast delivery! Ordered on Friday morning and at my door on Saturday lunchtime. Thank you ! I'll be recommending you and we'll be back for more inthe future. "
Gerry Rossi, Glasgow - 12th May 2018